Bitcoin and Ethereum continue to dominate the market with high transaction volumes every day. But the return on investment from these assets is disappointing. Most investors see them as  long-term investments without expecting any substantial returns in the short term.
The Investment Outlook of Ethereum and BTC
Despite the frequent upturns, BTC and ETH are prone to market volatilities, which haven't been kind for some time now.
Yet, they show great promise for the coming years. To give you a better perspective, Bitcoin and Ethereum have lost 60.65% and 66.59% of their values since hitting all-time highs in 2021.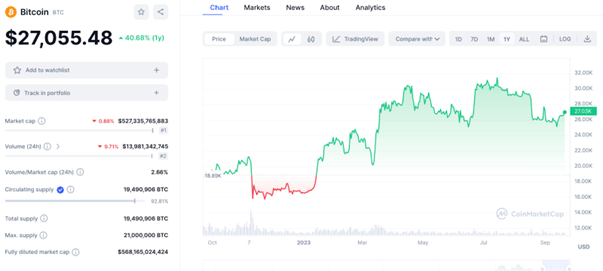 Bitcoin 1-year price action, CoinMarketCap
The Bitcoin-halving of 2024 is much-awaited and is seen as a pivotal event in the history of the market. Although the event cuts down the block rewards of the Bitcoin blockchain by half, it will bear a strong bullish impact on most of the market.
The prices of Bitcoin and Ethereum are expected to climb 1X to 2X in the first half of 2024, as a result. Although price corrections may follow later, they will prove to be solid investments this year, especially if you managed to buy the dip.
Scorpion Casino (SCORP) Has Higher Upside Potential
Rollbit is one of the best performing cryptocurrencies of 2023. From $0.001996 in October 2022, it jumped to $0.21 in August 2023! The token boasts a 5442.40% ROI on the yearly chart. That's substantially larger than Bitcoin and Ethereum can hope to give in a lifetime if you buy into them now.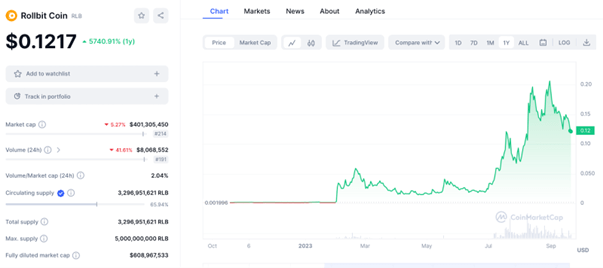 Rollbit 1-year price action, CoinMarketCap
What has any of that got to do with Scorpion Casino?
Scorpion Casino – a licensed online gambling and sports betting platform – is predicted to be the next Rollbit.
Much of the craze has to do with the new rush of investors to the industry, predicted to expand in the coming years.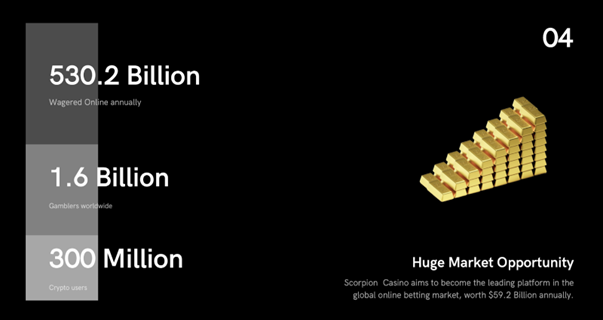 Being a blockchain-based platform, Scorpion Casino provides the added advantage of transparency and fairness when it comes to the selection of winners as well as the distribution of rewards.
The dynamic platform boasts an extensive array of offerings. With a staggering 30,000 monthly betting options, a diverse collection of 210 casino games, and 160 live games, it hosts a wide range of players from around the world.
Sports enthusiasts can also use the platform to apply their expertise in more than 35 sports – including football, tennis, American football, horse racing, basketball, golf, boxing, and MMA – as a source of side income.
The casino houses a vast selection of over 200 games – including slots, blackjack, roulette, poker, and live casino games – from major game providers like Evolution, NetEnt, Play N Go, Novomatic, EGT, and AMATIC.
The project has also recently joined forces with Tenset as its Bronze Sponsor.
Tenset Infinity ♾ keeps expanding with 65th airdrop and Bronze sponsor @ScorpionCasino 🎁

New online crypto platform offering 35+ sports to bet on and 200+ casino games 🎲

Read: https://t.co/46TEMrJvDY
TG: https://t.co/sK5srvtdJL pic.twitter.com/ykqkyJ5yhk

— TenseT.io (@TenseT_io) September 13, 2023
Scorpion Casino's Staking and Burning Mechanisms will Fuel its Price Action
Similar to Rollbit, Scorpion Casino has implemented a burning mechanism that will make sure that the token stays resilient to market volatility. Like all burning mechanisms, it is also designed to cut down the supply of the native token over time.
But there is more.
The burning mechanism is accompanied by a staking system with earning potential of up to $10,000 USDT per day.
But how reliable is this daily passive income?
To analyze that, we need to first take a look at the following diagram.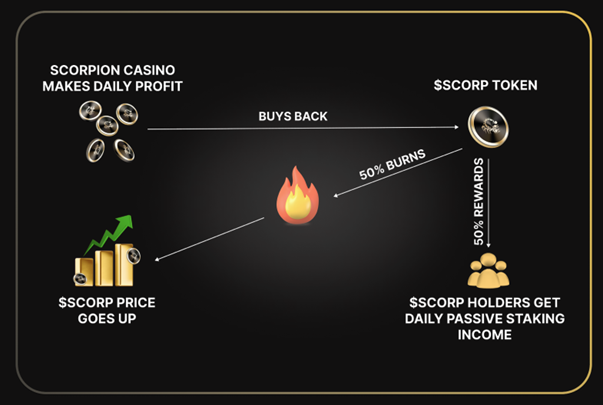 As you can see, the platform sets aside a share of the daily profit generated on the gaming dashboard for the staking rewards pool. Or, the staking reward system doesn't solely rely on minting out new tokens.
This makes a big difference since most crypto staking systems prove to be flimsy over time with depleting APY and token prices. Since the SCORP staking system relies on the platform revenue, it will prove to be more resilient. As long as the gaming dashboard maintains an active user base, stakers will continue to get attractive rewards.
Conclusion
While ETH and BTC are evergreen cryptocurrencies with more room for growth, they can't give exponential returns due to their massive market caps. Their growth potential is limited to a little over the much-needed price correction.
Promising new cryptocurrencies like Scorpion Casino, on the other hand, have a steep way ahead. A conservative price prediction for SCORP tokens this year is 7X-10X from the presale price, factoring in the unique value propositions and competence of the project as well as the growth potential of the online gambling industry.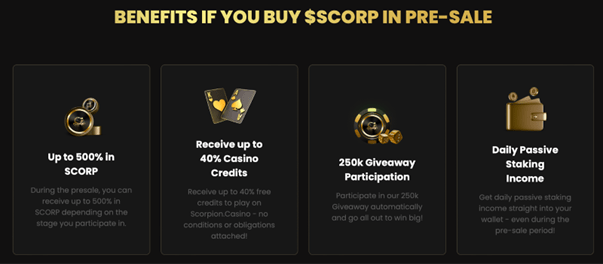 Disclaimer: This is a paid release. The statements, views and opinions expressed in this column are solely those of the content provider and do not necessarily represent those of NewsBTC. NewsBTC does not guarantee the accuracy or timeliness of information available in such content. Do your research and invest at your own risk.