Recent updates from the cryptocurrency market point to some news that could pose opportunities for users who know how to take advantage of market updates. Big Eyes coin (BIG), the hottest meme coin on presale, is still selling fast and at a record speed on stage 6. The meme coin raised 1 million dollars in its first presale week but has grown the same amount in less time over the last few weeks.
Early investors are rapidly buying the token because it's selling below market price. Experienced traders know that they can sell off for profit immediately after launch for a decent profit. Long-term investors understand that this is a project with immense potential, considering the massive hype it has built while on presale.
Recent updates from the BNB Chain situation from last week also report that the BNB Smart Chain will be undergoing a hard fork to fix the vulnerabilities discovered from the recent hack. The adjustments are intended to mitigate the cross-chain architecture between the Beacon Chain and the Smart Chain to re-enable cross-chain functionality.
BNB Chain Recovering After $100 Million Loss
BNB Chain, formerly called Binance Smart Chain, was created out of the need to diversify the DeFi market and provide an alternative to Ethereum. Ethereum's offerings were unsatisfactory because of how serious its scalability issues become when there's high on-chain activity. BNB Smart Chain was a great option as it provided better scalability, and the BNB quickly grew from being just a utility token on Binance to powering one of the top EVM- blockchains.
It recently had an issue where hackers maliciously created BNB tokens worth around $570 million. Props to the node operators who were able to freeze the network in time to control the damage. In the end, the damage was mitigated to about a $100 million loss, and the network is looking to fix the vulnerability with an upgrade called Moran.
Big Eyes(BIG) Raises $8,500,000 In Presales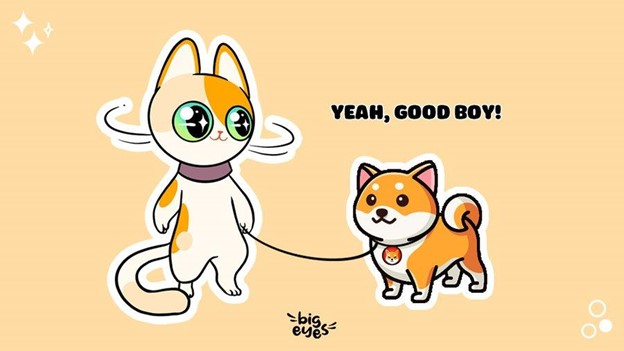 Big Eyes (BIG) is an Ethereum-based meme coin with huge prospects for DeFi and the cryptocurrency market. Crypto enthusiasts are looking at the possibility of the new Big Eyes meme coin to bring the market and DeFi landscape back alive. The market is driven by momentum, and once there's a sign of circulating money, all tokens tend to pick up.
Big Eyes coin aims to create wealth for its community using DeFi, like Shiba Inu(SHIB) did in 2021, creating various innovative DeFi offerings that amass value and continue to bring in more people. Asides from the potential of making money, the Big Eyes community enables a place for fun in the cryptocurrency market. At the same time, it hosts events, contests, and other community campaigns to continue to push its narrative.
Big Eyes Coin is derived from cute big-eyed cat memes, and it pushes the mascot to the bounds, creating a healthy rivalry with meme coins from the dog family. This online drama is something the Big Eyes community has found fun, hoping to sweep out existing meme coin communities to exert its dominance.
Big Eyes Coin is a community-governed project, and the model will enable growth since holders understand that they have higher stakes in the project and its success depends on how much effort they can put into its growth. Big Eyes might pretty much be the best-performing cryptocurrency after its launch.
Use the code BEYES137 for a BIG bonus.

For more information on the project:
Presale: https://buy.bigeyes.space/
Website: https://bigeyes.space/
Telegram: https://t.me/BIGEYESOFFICIAL
Disclaimer: This is a paid release. The statements, views and opinions expressed in this column are solely those of the content provider and do not necessarily represent those of NewsBTC. NewsBTC does not guarantee the accuracy or timeliness of information available in such content. Do your research and invest at your own risk.