The gaming industry has experienced many problems since its inception in 1958. The first game invented was a simple tennis game called Tennis for Two. Since then, problems involving security, inadequate technology, and phishing schemes have plagued the gaming industry, leading to many gamers putting down their controllers.
The Sandbox (SAND) and Decentraland (MANA) have taken steps toward creating a safe environment for their community with groundbreaking technology to keep them on top. So, can MetaCryp (MTCR) replicate the success of these two crypto giants? The new platform has created an ecosystem that hosts P2E gaming, a Metaverse, advanced DeFi platforms, and collectables.
Your Wallet Won't Dip With MetaCryp
MetaCryp understands where the gaming industry is failing. That is why it has taken it upon itself to fix these issues. MetaCryp is also capitalising on the increasingly popular P2E market by providing a unique ecosystem that allows its users to get the most out of gaming.
A common problem with games is that they regularly ignore the needs and wants of their community. MetaCryp has incorporated a DAO into its ecosystem to allow users to participate in governance on the platform. If you hold the MTCR token, you can vote on proposals concerning the platform's future or make some of your own!
MetaCryp will create a Metaverse that hosts an array of fun activities for its users to earn from in a safe and secure environment. Ultimately, MetaCryp wants its users to earn tokens, NFTs, and in-game assets to make money. However, if you just want a place to relax, MetaCryp's holiday venues allow you to escape to any corner of the world from the comfort of your home.
Create Adventures With The Sandbox
The Sandbox has no limits to its potential. The platform allows you to access a Metaverse where you can own a plot of land, explore the scenery, and participate in an array of fun activities by yourself or with friends.
Through the Covid-19 lockdown, The Sandbox became a haven for gamers. For almost two years we were confined to our houses, missing out on socialising with friends. The Sandbox allowed its users to meet up with friends online, participating in events and games in the Metaverse.
Additionally, those who don't want to participate in the events on The Sandbox platform can create games to play by themselves or with their friends. Don't know much about coding? No problem! The Sandbox provides the technology. All you need is your imagination and an internet connection.
Decentraland – The Fully Virtual Universe
Decentraland's fully virtual universe allows users to test the limits of their imagination. They can create, inhabit, and take part in special events such as casino nights, virtual gallery launches, and launch parties.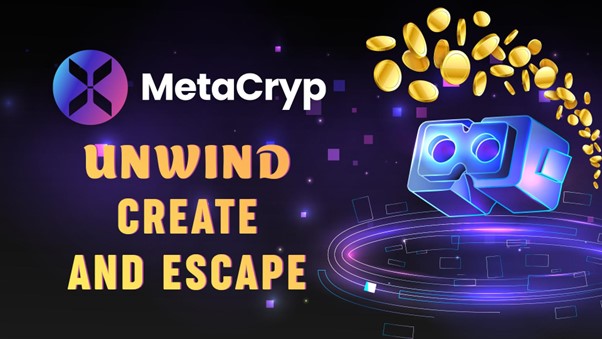 Like MetaCryp, Decentraland has incorporated a DAO into its ecosystem. Decentraland was created to be the first virtual world owned by its users. To that effect, Decentraland created the DAO to hand over control to the people who create and play the game, allowing them to decide the platform's future.
Decentraland is consistently upgrading its technology to ensure its users experience the best it has to offer. Its internal NFT marketplace is where you can purchase items to customise your avatar or purchase land! At the time of writing, the internal NFT marketplace has a trading volume of $241.5 million.
Final Thoughts
The Sandbox and Decentraland were pioneers in the P2E sector of crypto and saw their peak performance through 2021. Although they are not at their peak anymore, their long list of partnerships and groundbreaking technology could help them achieve the same level of success again.
However, MetaCryp has the potential to compete with any P2E ecosystem in the crypto market. It has taken the appropriate steps to design an ecosystem that tackles individual problems in the gaming industry. MetaCryp could be a fruitful addition to your portfolio when it launches. Additionally, you receive a 32% bonus on your first purchase of the token.
For more information on MetaCryp (MTCR), please visit the following links:
Presale: http://presale.metacryptoken.io/
Website: http://metacryptoken.io/
Telegram: https://t.me/MetaCrypOfficial 
Disclaimer: This is a paid release. The statements, views and opinions expressed in this column are solely those of the content provider and do not necessarily represent those of NewsBTC. NewsBTC does not guarantee the accuracy or timeliness of information available in such content. Do your research and invest at your own risk.